Welcome to the Westport CoffeeHouse. A full-service Coffeehouse with an exceptional "black box" theatre located just below the coffeehouse. Welcome to an oasis in the middle of Westports' "Entertainment District". We feature a non-smoking, non-alcoholic establishment that provides music upstairs Thursday - Saturday nights. Cyber Cafe - Computer/ Internet access is also available with our Business DSL connection. On the lower level we feature theatre, comedy, and music in the W.C.H. Theatre. Drinks are our speciality with choices ranging from Smoothies to Ice cream and of course exceptional coffees. Grilled panini Sandwiches and baking "by Pam" will always keep you coming back for more.

Features
High Speed Wireless internet now available!
Upcoming Events In the Theatre
Friday August 27th- Last Poet Standing youtube video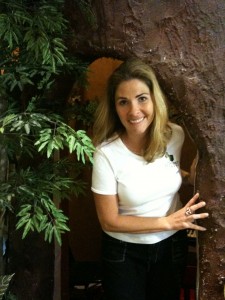 Friday October 8th @ 8pm
Improv Comedy
"Tantrum" featuring: Sarah Vore, a woman who has no time to be doing this.
Tickets: $10 Call 816-678-8886 for reservations.
May contain adult material.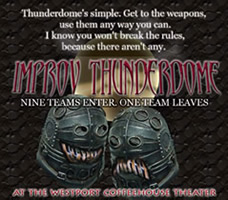 Saturday October 9th @ 9pm
Improv Thunderdome
Season6, Round 2
Call 913-375-5168 for reservations.
As part of Improv Comedy on "Second Saturdays" at the Westport Coffeehouse Theatre.
(house opening at 8:30 p.m.)
Tickets are $10.00



Saturday October 16th @ 8pm - Holy Cow presents: Improv Funhouse featuring "Holy Cow" at the Westport Coffeehouse Theatre (house opening at 7:30 p.m.)
Tickets are $10.00 or$8 with student I.D. Call 816-830-4080 or www.holycowimprov.com for tickets.
Friday October 22nd @ 6pm and 8:45pm - Sean Hill Entertainment presents: "Memoirs of a rhythm poet" featuring The Recipe, Miss T, Erik Stafford, and more.
Tickets are $10.00 www.seanhillentertainment.com
Upcoming Second Saturdays:
Saturday, October 9th 6:30 pm - TBA 9:00 pm - Improv Thunderdome Season 6 Championship
Saturday, November 14th 8:00 pm - The Trip Fives w/ Loaded Dice
Saturday, December 12th - CHRISTMASBREAK!!!
Tickets for all shows are $10.00 The house opens 30 minutes prior to all shows.
For more information contact trip.fives@gmail.com or call 913-375-5168
more info
Music upstairs this weekend
Every Wednesday 7:30 pm Independent Film Coalition Meeting

View Clips from events in theater :
BareTV.com